When you are traveling there are a lot of things you learn about history and the culture of the people who live there. One of the most recent profound experience for me has been a totally different environment and culture within Turkey.
There, I found great ways to decorate my home and how to pick the right furniture for my future house. Coming from a soviet background usually our decoration and interior design culture is not the best. It's very bland and boring to say the least, however, I have learned that the more you travel the more you open your eyes to the beauty of other things in the world.
I had a friend host me at his house in Turkey, Istanbul. The city is massive and with over 20 million people, and from the architecture and the design to how the people lived, it was profoundly different than what I was used to. Usually former soviet countries are very cold on the outside and keep to ourselves, but one thing that struck me in Turkey was how people were open and eager to talk to just random strangers.
Talking with shop keepers and going to stores felt like making new friends as you had to negotiate and talk about whether you could get discount on some of the products, but it was quite the learning experience.
There is a rich sense of history in the country of Turkey. The Ottoman empire culture and remnants were still visible and the people were proud of their background and heritage.
New Designs & Decoration
One thing that stood out to me was the use ottoman furniture. You can learn more from this website.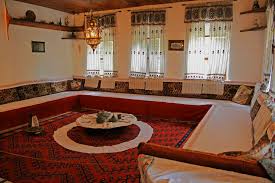 The colors are unique and bright with a lot of colorful sights. The furniture seemed minimalist and set in such a way to provied as much room and space in the room. People hung rugs, and all kinds of garments on their walls.
Obviously you have modern design and decoration in the mix like any other country, but some of the things really stand out in the center piece and how choose to express themselves.
Finding new Decoration Inspiration With Ottomans
The ottomans though really fascinated me. It's versatile piece of furniture that can go with almost all kinds of things when it comes to decration. You can use it as a stool, chair, footrest, a makeshift table, and various other things that might fit the need of the user.
What was neat was how my friend Dzengis pulled out cups, and other tableware from his ottoman stool that he was sitting on. His house was clean and quite organized, I think the ottoman furniture definitely helps with him staying on top of everything.
When I get back, I probably will look for the same thing in my nearest shop or browse online for what I might find. For a broke backpacker like me it might actually be a pretty good piece to decorate my home with. It's not that big nor does it have much space, so it might be the perfect fit for me to get things in top shape.